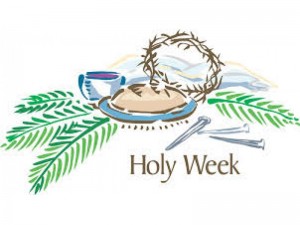 On the morning of Holy Thursday, our school community came together to listen, watch, pray, and think about Jesus and His love for all of us. This day is a wonderful tradition at Our Lady Queen of Angels School.  This is a time to spend the last school morning before the Easter Holiday with a children's retreat to culminate the Lenten Season.
The day will began with a prayer service at church led by our Eighth Graders.  The students then created an art project depicting their Lenten Journey.  The students prayed the rosary with Mrs. Nielsen on the field.  A rotation was held in the parish hall where our priests shared the story of the last supper.  The final event was held in the church where the Sixth Graders  presented the living Stations of the Cross to culminate our Lenten Retreat.  Students and teachers worked very hard to make this a lasting memory and we thank everyone for their support and enthusiasm.  Wishing you all a Blessed Easter.
The undefeated Green team!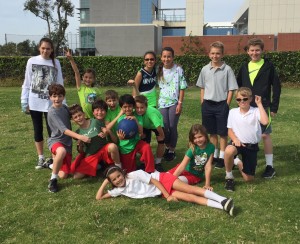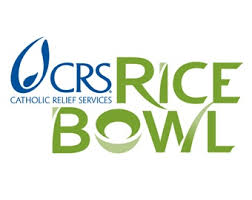 In order to participate more fully in this Lenten season, each student was given a rice bowl to collect change and be able to participate more fully in the Lenten season and practice almsgiving. This donation will be used to help the less fortunate both abroad and at home.
If you would like to learn more about Catholic Relief Services and the rice bowl initiative, please go online to www.crsricebowl.org/schools.
Students are to return Rice Bowls to school on March 21st, the first day of Holy Week. On the next day, March 22nd, the students will participate at a formal assembly to collect the Rice Bowls.
6th graders Avery Baum and Rachael Ranney, members of the OLQA Children's Choir, recently returned from participating in the Youth Treble Honor Choir at the American Choral Directors Association Western Division Conference in Pasadena.  They auditioned last fall, and were accepted into this prestigious honor choir of 185 singers, gr. 6-9, from choirs in California, Utah, Arizona, Hawaii, and Nevada.
Two other OLQA singers, 7th graders Emma and Alice Pancake, were also accepted but were not able to attend.
Avery and Rachael began rehearsals with the combined honor choir on Wednesday evening, February 24, and rehearsed twice a day on Thursday and Friday culminating on Saturday, February 27th with a beautiful performance at the Pasadena Civic Auditorium of seven pieces, complete with Hula dancers from Kamehameha School in Hawaii.  Under the direction of nationally known conductor, Judith Herrington, the children sang beautifully and inspired the audience with the power of music as an answer to division in our world.
Under the direction of Ms. Diana Landis, OLQA Children's Choir members have been members of ACDA National and Division Honor Choirs since 2001 and have traveled to states from Hawaii to Chicago.  We are very proud of our Children's Choir and their weekly rehearsing to share God's message with our church and community.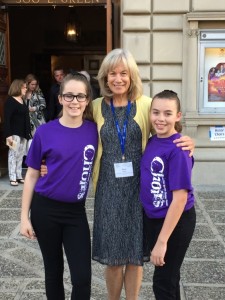 Congratulations to our Academic Decathalon Team!
Our Academic Decathlon Team competed on Saturday, March 5th at Santa Margarita Catholic High School. Our decathletes took Third Place in the Logic Team Event. Kristen Pang received a Third Place Medal for English. Caroline Ashworth received a Second Place Medal for Fine Arts. The entire school community is tremendously proud of our decathletes and wants to thank them for representing our school. Their long hours of study were evident at the competition. OLQA School would like to thank all the coaches who worked with our decathletes. Thank you to our team mom, Mrs. Morales.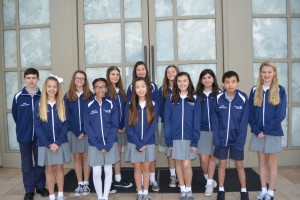 The 2016 Science Fair was a great success!
More than 130 people were involved in the annual fair, held on February 3rd, and which included students, teachers, parent volunteers, administration, staff and judges. Fourteen judges from the community and local universities interviewed eighty participants from the 7th and 8th grade classes. The judges gave 26 awards to the students. Eighteen awarded students have been invited to participate at the Orange County Science and Engineering Fair.  We are so proud of our students who participated as their efforts were outstanding.
The awarded students are as follows:
Biological Sciences Category
First Place:  Ashlee Morales (7B), Kristen Pang (7B), Teresa Dang (8A)
Second Place:  Alice Pancake (7B), Kate Struthers (7A), Caroline Amling (8A)
Third Place Imani Brutlag (7A), Jennifer Alvarado (8B), Abigail Frank (8B)
Honorable Mention:  Luke McKenna (7A), Caroline Ashworth (8A), Heidi Klinger (8A), Chloe Cavileer (8A)
Physical Sciences Category
First Place:  Lauren Shepherd (7A) Igor Grabowsky (8A)  Annabelle Fowler (8B)
Second Place:  Hannah Jervis (7A), Avery Lallande (8B),
Third Place:  Abby Hampton (7B),  Lauren Smith (7A), Olivia Hempstead (7A), Casey Brown (8B)
Honorable Mention:   Julia Muldowney (7B), Julia Noya (7B),  Nelson Wilkins (7B), Ella Musselman (8B),  Shaye Stevens (8B)
Catholic Schools Week is a joint effort of the National Catholic Education Association, NCEA, and the United States Conference of Catholic Bishops. Over the last few years, Catholic schools across our nation have focused on making a world of difference. Together with more than 2.6 million other students across the nation, we wish to extend our appreciation to the parents, students, faculty and staff, and our parish for helping to make our school so special.
The PSA sincerely thanks Keri O'Melveny and Amy Ivey (Co-Chairpersons of Catholic Schools Week) for all the planning and hard work that went into this week long celebration.
Sunday, Jan. 31st – OPEN HOUSE
DAY 1 Monday Feb. 1st – STUDENT APPRECIATION DAY
On this day students had an out of uniform day and were greeted with a heart shaped note from their parents and a treat waiting on their desks when they arrived at school. Students enjoyed a fun filled activity with hula-hoops called      "Hoop-la".  Thanks go to Trina Saeedi and Kristi Johnson, Enrichment Chairs, for bringing "Hoop-la" to our school. 
DAY 2 Tuesday Feb. 2nd  – PRIESTS/ADMINISTRATION/DIOCESAN APPRECIATION DAY
On this day a special presentation was made to our School Administrators and Priests at the morning assembly and a thank you letter was sent by the PSA Board on behalf of our school to our Diocesan Staff office along with a donation in their name to St. Joseph's Catholic School. Mater Dei visited showcasing their Performing Arts Department.
DAY 3 Wednesday Feb. 3rd – PARENT APPRECIATION DAY
On this day parents were celebrated as students decorated crosses to take home to their parents and show their appreciation.
DAY 4 Thursday Feb. 4th – SPECIAL PERSON'S DAY & GIZMO GUYS
On this day students celebrated a special person in their life. It is a tradition at OLQA to invite a "special person" to join us for Mass and lunch. Each student brought a lunch for themselves and a "special person" and enjoyed it together somewhere on the school grounds. After lunch, the student and special person took a tour of their classroom.  Later that day, students enjoyed a performance from the amazing juggling duo, Gizmo Guys!
DAY 5 Friday Feb. 5th – TEACHER AND FACULTY APPRECIATION DAY 
Each morning the PSA delivered breakfast and snack items to the faculty lounge for the administration, and staff to enjoy.
On this day students brought in special THANK YOU notes, cards, and pictures to their teachers and coaches.  Teachers and staff also enjoyed a lovely lunch and were each presented with a special gift. PSA Board Members took over morning carpool duties.