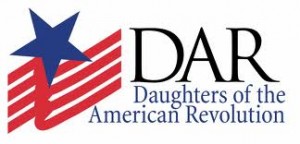 THE  DAUGHTERS  OF THE  AMERICAN  REVOLUTION (DAR) - Congratulations to our OLQA students!
DAR ESSAY  WINNERS
Four winners from Our Lady Queen of Angels School are chapter winners for their grade levels. Lauren McGrath's essay won Fifth Grade – second place, Donica Garcia's essay won Eighth Grade – third place, Taylor Morales won Sixth Grade – first place, and Caroline Amling won Fifth Grade – first place.  The first place essays were submitted to the DAR District Contest and Caroline Amling placed first in District XII! It has been submitted to further competition at the DAR state level. Congratulations students!
DAR AWARD WINNERS FOR FIFTH GRADE
Each year The Daughters of the American Revolution ask OLQA to nominate two Fifth Graders who have demonstrated excellence in Social Studies this year. The two overall Social Studies winners are Zakary Karpa and Casey Brown.
DAR AWARD FOR CITIZENSHIP IN JUNIOR HIGH
Our Junior High award winners for Citizenship are as follows: Ryan Burgoyne, Madeline Frank, Christian Polny, and Kendall Dewey.